We have a brand-new website! Get to know the new Telefónica Tech Cyber Security & Cloud website
Telefónica Tech is constantly growing and working to be the technological partner of companies in their digital transformation process.
As part of this purpose, Telefónica Tech Cyber Security & Cloud launches its new website. A space that we have entirely developed and designed in house, which allows us to promote and share our entire value proposition with our customers better than ever:
Telefónica Tech's Cyber Security & Cloud business unit drives the digital transformation of companies, public administrations and organisations by applying the capabilities of the most advanced Cloud technologies so that they can reach their maximum potential. Always reducing the associated risks thanks to professional services managed by our team of certified experts.
The new website represents who we are as digital solution providers and reinforces our position as a benchmark in the market
The new Telefónica Tech Cyber Security & Cloud website brings together more than 140 solutions and products that, together with our partner ecosystem, we offer to our B2B customers in the business sectors in which we specialise, such as banking, industry, education and healthcare, among others.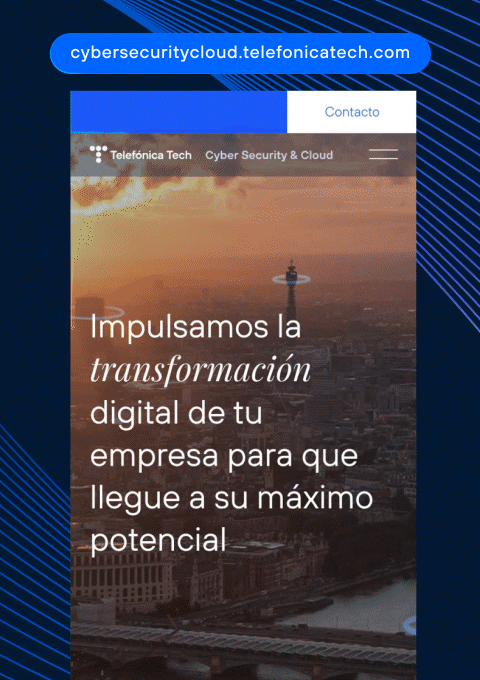 Learn how our digital solutions drive business in the real world
The new Telefónica Tech Cyber Security & Cloud website, in collaboration with our customers, provides audiovisual resources, whitepapers, infographics and testimonials on some of the case studies that show how our technologies can contribute to the digital transformation of businesses, companies and organisations of any size and sector.
Recent examples include:
La Marina de Valencia, the 4.0 port that continues to advance in its digital transformation by applying IDoT - technologies related to Cybersecurity, Cloud Computing, certification and 5G connectivity - and which already has intelligent points of light and water supply to reduce its water and environmental footprint.
Thanks to 5G technology and Edge Computing combined with Virtual Reality, IE University students can connect remotely and interact with professors and peers in an immersive and enjoyable virtual space that enhances their performance and enables innovative learning resources.
Find out why Telefónica Tech is a benchmark in knowledge technologies
Based on our numerous research, development, analysis and dissemination projects, the innovation area and cybersecurity laboratory make Telefónica Tech Cyber Security & Cloud an international benchmark in solutions that offer companies a reliable, secure and resilient digital transformation.
Our new website makes it easier for users to navigate and helps them find what they need. We have gathered all the information about our innovation centres, patents, technologies... We have also created a lot of content about Cybersecurity and Cloud technologies and all the initiatives we are carrying out to share our knowledge with industries, start-ups, students and universities.
Come and visit us at https://cybersecuritycloud.telefonicatech.com/en. We'd love to hear from you and get feedback to help us improve —thank you!