Ready for a Wild World: Big Data is key for humanitarian issues
The Big Data for Social Good event organized by
LUCA
, "
Ready for a Wild World
", took place on May 24th and brought together experts from relevant global organizations and companies in Madrid. Among those organizations were FAO, UNICEF, The Ministry of Agriculture and Fisheries, Food and Environment (MAPAMA), the GSMA and companies like Data-Pop Alliance and Digital Globe. With each of their presentations, they were able to show the importance of data when it comes to developing efficient prevention plans to prepare for natural disasters and climate change.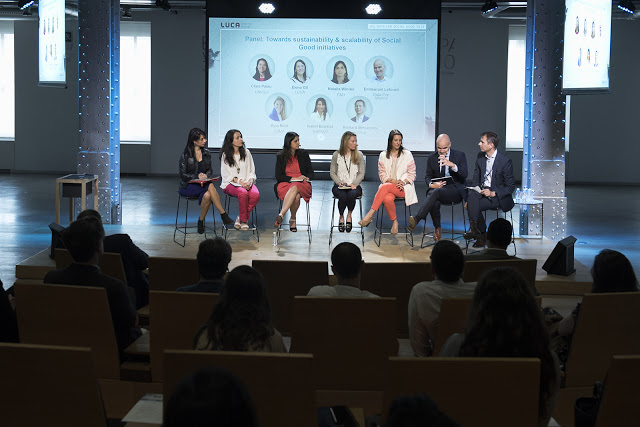 Figure 1: The closing panel of experts.
In the new digital era, data-based desicion making is a fundamental pillar for the success of an organization. According to Kyla Reid, Head of Mobile for Humanitarian Innovation & Digital Identity at GSMA, "Big Data is key for digital innovation when it comes to humanitarian work."
Along these same lines, the Big Data for Social Good department at
LUCA
is already working on projects with organizations like
UNICEF
and
FAO
. In fact an agreement has recently been signed with the latter.
Natalia Winder Rossi
, Head of Social Protection at FAO mentioned: "FAO and Telefónica are working together to take advantage of the use of state-of-the-art digital technologies for agricultural development, food security and nutrition, and specifically, to prepare and strengthen farmers in the face of extreme weather events related to climate change."
Another debate that was opened during the sessions was data protection.
Isabel Bombal
, advisor to the General Directorate of Rural Development and Forest Policy-MAPAMA highlighted how to overcome the barriers that arise when the fact of data sharing comes up: "the first incentive to make data exchande posible is to explain the benefits of why it is important". Regardless of whether the objective when working with data is philatropic or business , Elena Gil, CEO of
LUCA
, reminded the audience that "Privacy is a right and we must be very protective with that."
Besides presenting
real tools and projects live
, like
OPAL
, a platform that seeks to unleash the potential of private data for social good, the application of geospacial data like those offered by
DigitalGlobe
to predict all types of events, including environmental ones, or
SafePost
, a tool that is able to send messages in emergency situations without the need for internet connection;
the need for these initiatives to be sustainable
on a medium to long term scale as also highly discussed. It is important that these initiatives are sustainable for the main users of these tools, meaning, humanitarian organizations and public administrations.
If want more detail on the event, you can watch all the coverage, including videos on
our website
.