Data Transparency Lab looks for new projects on privacy and data transparency
Data Transparency Lab (DTL) call for tools opens on August 10th and will end up on September 30th to attract new apps. The selected projects will get prizes ranging from €10 000 to €25 000 to complete their applications, and will announce the awarded projects at its annual event that will take place in Barcelona on November 15th.
The Data Transparency Lab (DTL) will launch a Call for Tools on August 10th that will allow entrepreneurs, startups, universities and research centres to submit new projects on privacy and data transparency.
The aim of this call is to give economic and technical support to complete apps, tools, libraries and other forms of software that explore topics aligned with Data Transparency Lab's mission to help users understand how their data is being used when they connect to online services: which data is collected, who is collecting that data and how it is used.
The current call will offer up to €50 000 and the number of selected projects will depend on the amounts requested by the applicants that make it to the final. Participants will be able to select the required amount to finalize the project, from €10 000 to €25 000, and will have to describe how they plan to spend the requested funds. In addition to the economical prize, the selected projects will get technical support from an advisor from Telefónica with whom the will sign a Schedule of Work to supervise the development of the tool and guarantee the success of the project.
Submission process
In order to apply, applicants have to submit their projects through the online form that will be available on August 10th at DTL Call For Tools page. The deadline to apply ends up on September 30th. From this date the Committee will judge all the proposals and will announce the winners at DTL's annual event on November 15th in Barcelona, when they will place ideas in common on the advancements in this field with renowned researchers, technicians, regulators and industry representatives.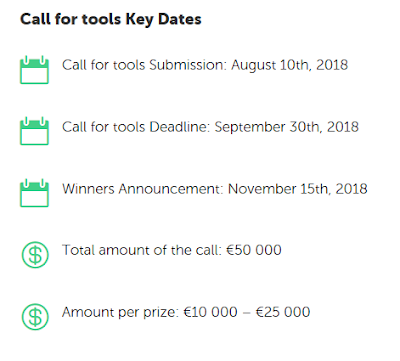 Figure 1: Call for tools key dates
Areas of interest: privacy leaks detection, advertisement transparency, personal data valuation, analysis of tracking techniques and variation of pricing depending on personal information, detection of algorithmic bias and discrimination, identification and analysis of anti-competitive practices in online platforms, detection and analysis of online behavioural targeting on advertising, search, recommendation, transparency challenges around new crypto-currencies and blockchain technologies, explainable Artificial Intelligence, among others.
About DTL
The Data Transparency Lab was founded four years ago by Telefónica at the R&D Centre in Barcelona as a clear case of the effort that Telefónica Barcelona puts into innovation. The initiative came up as the need to study transparency related to data use in the digital environment and DTL has been consolidated as a model organization in its sector. DTL gathers the best technologists, regulators, industry representatives and researchers worldwide to foster transparency and privacy on personal data.
The goal of DTL is to connect the best talent worldwide to work on technological challenges that data transparency requires in order to create a new trustworthy data economy. With the aim of supporting more projects DTL launches this call for tools to create a community that allows the development of open source applications designated to improve data management by individuals and companies.
DTL Grants Program was created on 2015 to support research and development of tools to empower users to be in control of their online personal data. Since its foundation, DTL has invested in grants €900 000 designated to 18 projects from international universities such as Princeton, Berkeley, Max Planck Institute for Software Systems or Technische Universität Berlin, among others. With the aim of supporting more projects DTL has launched this call for tools and will soon announce the Hackathon planned to take place on November.