The COVID crisis and diversity in the technology field
The pandemic has highlighted the need for STEM profiles
The coronavirus pandemic is estimated to have accelerated digitalisation by 5 to 10 years. This means that the technology sector will generate the most net employment in the coming years, but the gender gap in this sector is a reality that cannot be ignored.
Half of European companies in the technology sector claim to have difficulties in finding the right specialised profiles for their needs. Last year, technological employment in Spain accounted for 3.8% of employment in the country as a whole, a div that is one point below the European average. In addition, this sector is clearly male dominated, with female ICT experts accounting for only 19.8% of the total.
Girls don't want to study STEM careers
The STEM (Science, Technology, Engineering and Mathematics) career field, unlike other sectors, remains an obstacle course for women, and this is felt by girls from an early age. It is estimated that only 30% of women in the world study STEM careers. This percentage drops to 3 per cent in information and communication technology careers or 8 % in engineering careers.
This is due to several reasons; the environment is very influential as well as having references. In addition, women working in STEM fields tend to be paid less than their male counterparts and, even more seriously, the likelihood that they will drop out of their careers is very high, estimated to be around 35% in the United States.
Multiple reports show how girls are biased, disappointed and uninterested in technology.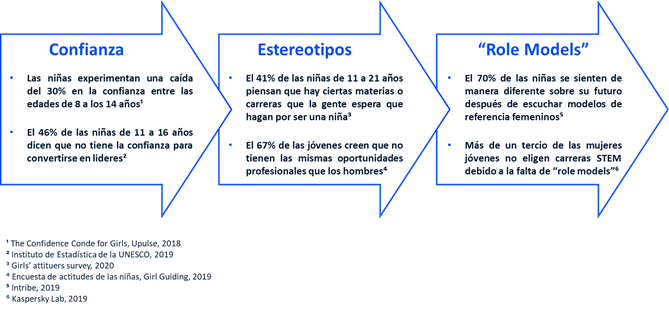 Diversity benefits us all: #LadyHacker
COVID-19 has had a disproportionate impact on women. But in turn, it has confirmed the strengths that women bring in terms of leadership and shown that gender diversity, in teams and in decision-making, leads to better outcomes for all. According to a recent study by McKinsey, gender equality would add $13 trillion to the global economy by 2030.
Fortunately, it is not all negative data. Children, because of COVID-19, have been able to see for themselves the relevance of technology in their family life, at school, in the media, in films and in literature. They have begun to see successful women in the field of research and science, epidemiologists and health scientists, data analysts and mathematicians. And by seeing these women rise to the top, children see the world with greater respect for all and equality.
More and more schools are making a differential commitment to include robotics and programming subjects from a very early age, which allows universal access to training in the STEM professional field and contributes to girls' greater confidence and interest in technology.
Promoting technological vocation among girls through awareness and guidance actions given by professional women from the world of research, science and technology is precisely the objective of Telefónica Tech's global initiative #LadyHacker. Because it is important to help girls to fulfil their dreams and to show them that there is no impossible profession. To show them that it is possible to go further and better, although there is still a long way to go.