Blockchain Expectations and Realities From 2017 To 2021 And Beyond
It has been several years since 2017 when Gartner first included Blockchain at the top of its "Hype Cycle" of emerging technologies. Back then he estimated that it would take 5-10 years to reach the mass market. It was also beginning to descend into the "abyss of disillusionment" alongside companions such as Machine Learning, autonomous vehicles and drones, among others.
Today we are going to review the experience of companies like Telefónica in making Blockchain's expectations a reality. What has happened during this time? Are there already successful applications of this technology, four years later? What areas is it being applied in? What does the future hold for us??
The Ancient Age: The Beginning of Cryptocurrencies
Strictly speaking, 2017 was not the first time that Gartner introduced something related to Blockchain in its "Hype Cycle". Two years earlier, in 2015, we could find cryptocurrencies on this curve.
Probably this year, 2015, was a turning point for the first wave of bitcoin adoption. Companies such as WordPress, Microsoft, DELL or Destinia (to mention some Spanish companies) saw in this cryptocurrency an alternative means of payment for their customers. But the use of cryptocurrencies for the purchase of goods and services, integrated into the online shops of these companies, quickly fell into the abyss of disillusionment. The reason was simple: it did not solve any problems, for either party.
There was no clear return for the companies. The number of users was low and the cost savings in the form of lower fees compared to alternatives were unattractive. In addition, there was the risk (technological, legal, economic, reputational, etc.) involved in adopting bitcoin. Nor did users have any incentive to replace credit cards or services such as Paypal, which were easy to use and already accepted as the usual and secure means of making online purchases.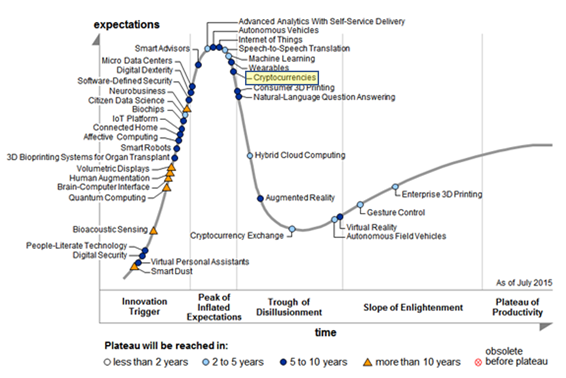 Gartner Hype Cycle for Emerging Technologies – 2015
The Middle Age: From Cryptocurrencies to Smart Contracts
Between 2015 and 2017, expectations of the massive use of cryptocurrencies deflated, weighed down by their use as a means of payment. Companies began to look at the underlying technology that made cryptocurrencies possible. They thought of a "decentralised database" where information was stored, without intermediaries, secure and unalterable, and which could be used for more than just payments. Thus, in 2017, cryptocurrencies disappeared from Gartner's "Hype Cycle" to make way for Blockchain.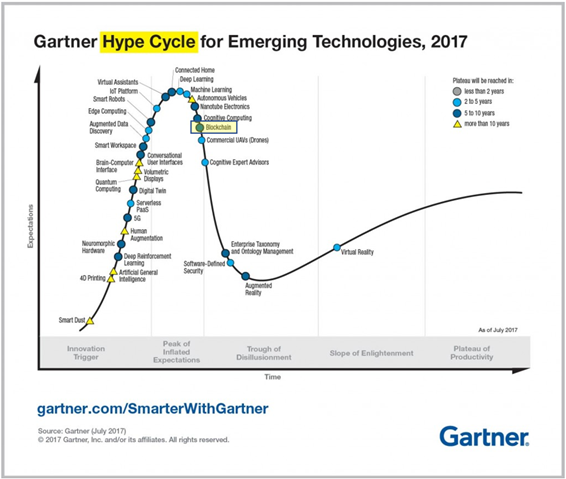 Gartner Hype Cycle for Emerging Technologies – 2017
During this period, new technological solutions began to emerge. They were based on the basic concepts of cryptocurrencies applied to the deployment of general-purpose applications. They did not focus solely on payments and used public and private Blockchain networks. These applications, known as "Smart Contracts", make it possible to define business logic. Once deployed on these networks, they allow different use cases to be implemented securely (without any actor being able to affect their operation). They take advantage of the characteristics of immutability, traceability and transparency of the information in Blockchain networks, in those scenarios where these aspects represent a differential value
The Modern Age: Technology in Search Of A Problem
Well, that's great, but... 'what's the point of it', you may ask. Where does it make sense for a company to integrate some Blockchain technology? Does it really add value to the business? Is it just one more of these purely technological trends that do not go beyond proofs of concept and pilots?
At that time, the objective of those of us who worked with this technology was to answer these questions. To identify use cases where its application was differential. We had to solve a problem that had not been solved until then, or we had to do it in a different way. It seemed difficult to generate revenue, but it did seem possible to obtain efficiencies (cost/time savings). Especially when we were looking at complex processes with multiple actors.
During those two years we probably discarded 90% of the scenarios where we proposed to apply Blockchain. After the initial analysis it did not bring clear benefits. Sometimes it implied more complexity than what it solved, both technologically, operationally or in terms of governance between the actors involved. In other cases, it required a technological maturity that did not yet exist. Or it didn't make sense to apply Blockchain at all. But we tackled other projects where it made sense, especially in complex processes with multiple actors. In cases where there are intermediaries because we don't trust the information generated by third parties or there are conflicting interests (as in the reconciliation of international call billing between operators, for example).
The French Revolution: Supply Chains
Among the recurring use cases that were implemented in companies, one stood out above the rest. This was the application of Blockchain in supply chains. It had all the characteristics to become the ideal candidate: different actors involved, a linear process to monitor, multiple entities to control, potential impact on the business, etc.
Telefónica was a pioneer in the application of Blockchain (along with other technologies such as IoT, Big Data or AI) in the transformation of one of our supply chains. We managed to implement a project with real returns: ROI in less than a year and substantial savings. It was not just a matter of applying Blockchain, but also of highlighting the operational improvements that the incorporation of these technologies allowed. This is explained in detail by the Global Supply Chain business area managers who made it possible, in this webinar:
The Contemporary Age: Blockchain for All
And so, we arrive at 2019, the year in which Gartner would no longer include Blockchain in its "Hype Cycle" of emerging technologies. It was already a firmly enough established technology to have a specific "Hype Cycle" in which to predict which application areas would have the greatest development expectations in the coming years. But also which ones were already at the bottom of the "abyss of disillusionment" struggling to find their "product-market fit" in order to reach the market definitively.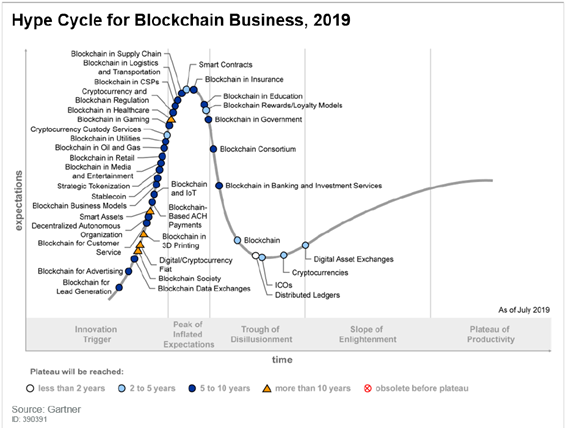 Gartner Hype Cycle for Blockchain Business – 2019
If we look first at the lower end of the " abyss of disillusionment ", we find the generic concepts of " Blockchain " and " Distributed ledgers " (the superset of distributed ledger solutions, where Blockchain is also included). However, in 2019 we are starting to see the "return" of cryptocurrencies to the curve, as well as several related trends (ICOs and Digital Asset Exchanges).
Taking this graph as a reference, in the last two years we can identify two very distinct trends:
The increase in the use of private and consortium Blockchain technologies in the business environment, typically for process optimisation.
The development of decentralised financial services based on public Blockchain technologies and cryptoassets.
Blockchain In the Company
In the business sphere, different realities have become evident (and which we have broken down in more detail in the following article):
The maturity of Blockchain technologies specifically designed for the business environment
The move from proof-of-concept to production environments
The importance of return on investment
The need to interoperate between the different networks (private, public and consortium) to obtain the greatest benefit.
The importance of having reusable components (allowing us not to "start from scratch" each project).
The value of effective decentralisation
The importance of combining Blockchain technology with other technologies, such as IoT (to give greater veracity to the information that is recorded).
Blockchain In the Financial Sector
Since 2019, the development of decentralised financial services has increased significantly. There is growing interest from both customers who make use of them and companies in the financial sector. It is worth noting:
The use of cryptocurrencies as an investment asset (not as a means of payment), both among individuals and by companies such as Tesla and Microstrategy (which have been publicly acquiring bitcoin since 2020)
The growth of "stable coins", cryptocurrencies designed to remain stable in value (avoiding volatility, and thus reducing the risk of traditional cryptocurrencies)
The development of DeFi (Decentralised Finance), a set of "decentralised" protocols and services (loans, deposits, derivatives, etc.), supported by the ecosystem of cryptocurrencies and stable coins, whose volume of business has increased sharply since 2020
The emergence of NFTs (Non-fungible tokens), which make it possible to develop business models based on unique assets (works of art, collectibles, etc.)
The interest of central banks in the development of "digital money", the so-called CBDCs (Central Bank Digital Currency)
Blockchain Today
Garner recently published his latest Blockchain Hype Cycle (so far), where we can see some of these trends at different stages of the curve.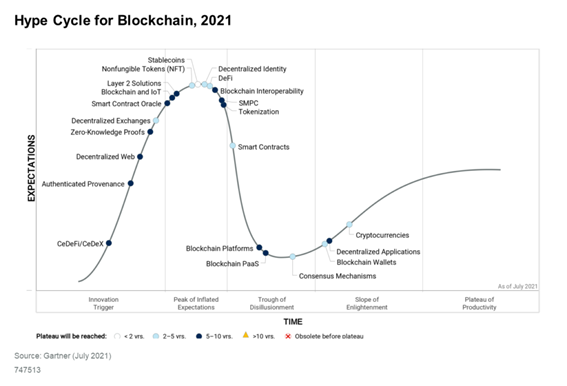 Gartner Hype Cycle for Blockchain – 2021
Some of these trends will be key to the ultimate development of this technology, especially in the business environment.:
The combination of technologies to bring the greatest value to the business.
Consolidating PaaS solutions that make it easy to use Blockchain for quick and easy integration into enterprises, such as TrustOS.
Consolidation of Layer 2 solutions to increase the performance of existing networks.
The development of interoperability solutions between networks, to connect and extend services and avoid "silos".
The promotion of digital identity supported by distributed registration technologies, where Spain is one of the leading nations.
The development of new business models based on tokenisation
It is clear that this has only just begun. At Telefónica we have an exciting challenge ahead of us over the next few years to continue to lead the adoption of Blockchain in the enterprise, to successfully address all these lines of development and to realise the expectations of Blockchain in Gartner's Hype Cycle, as we will discuss in a future article.